Domination Phone Sex : 877-882-OBEY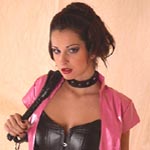 When most people think about domination phone sex, they think of the cruel Mistress in black leather, towering over her slave as she wields a riding crop. They're in a fully-equipped dungeon, in the middle of an intense bondage and discipline scene that would make the Marquis de Sade blush. If this is what you seek - look no further. Many of our lifestyle Mistresses actually have those fetish outfits, those dungeons, those implements - and those scenes. In fact, we have experienced Dommes who love to make submissives squirm and crawl, with floggers, candle wax, even suspension on the cross. They're ready 24/7 for phone sessions that can run the gamut, from light spanking and bondage, to serious SM sessions - even to torture and the taboo if desired. Like all domination phone sex scenarios, it's aimed at giving you the total personal and sexual freedom you can only find in submission to your Mistress.
Sissification/Sissy Slut Training: 888-39-SISSY
Small Penis Humiliation Phone Sex: 888-306-TINY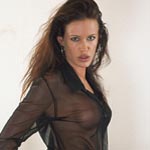 What shows Dominance and submission more than turning someone into a sissy (or even better, a true sissy slut) - or well-deserved humiliation because of a tiny penis? We receive dozens of calls a day from men who need the hand (and voice) of a stern Mistress who is experienced in sissy slut training, and we're happy to accomodate. We have Dommes who relish the challenge of teaching you the fine points of being an acceptable sissy boy, or requiring you to act as a true sissy slut, sexually servicing random men - and enjoying it. We take just as many calls from pathetic losers with small pricks, who need to be humiliated by our Mistresses, wives and teen brats. There's nothing Dommes enjoy more, unless it's taking things a step further and cuckolding you.
Sensual Domination Phone Sex : 877-63-SLAVE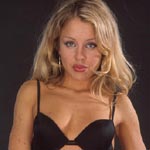 There are many other ways for a Domme to assert her superiority and exert her will over a submissive. They are diverse techniques, but to make things easier, we call them all sensual domination. They usually involve manipulating your mind, instead of hurting or harming your body. Two of of the most popular types of sensual domination phone sex are erotic hypnosis and mind control, where a trained hypno-Domme actually uncovers your true desires and destiny - and helps you realize them by substituing Her will for yours. The freedom you can experience when you surrender your will to Her - is unbelievable. But there are many other types of sensual or erotic domination our Dommes can perform. Humilation of all sorts, caring degradation, denial and reward, financial domination and blackmail. Your Domme will learn about you, and find the best ways to motivate, control and dominate you.